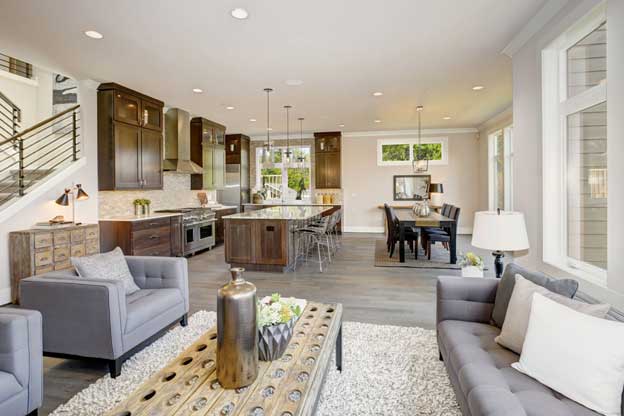 Mon 26 2021

How to Choose Between Closed and Open Floor Concepts

Building a custom home involves making a lot of decisions, and what the floor plan will look like is one of the biggest choices. Your home's floor plan determines how the different spaces connect, and it affects the overall flow, feel, and functionality of the house. While it is a spectrum, floor plans are often considered either "open space" or "closed space."

In architectural and interior design, open space floor concepts are floor plans that combine two or more living spaces. In this type of home, rooms such as the kitchen, dining room, and living room may blend together without walls or clearly defined boundaries. It keeps the space large and open. Closed floor concepts, on the other hand, are the opposite: they feature smaller-sized spaces that are separated into distinct areas for specific activities such as cooking, working, or relaxing. Each of these architectural styles has its own set of benefits and will fit different lifestyles and spaces.
Benefits of Closed Floor Concepts
The closed floor concept, or "traditional" floor concept, is less trendy at the moment but still offers a host of benefits. The largest of these benefits is privacy, as well as sound and smell control. With closed floor concepts, space is more defined and separate, meaning someone can talk on the phone without everyone hearing their conversation or make popcorn without everyone else smelling it. This may be less of an issue for couples, but it becomes more important when the living situation involves roommates or large families.
In addition to privacy, closed floor plans lend homes a cozier feel, offer more design options, and often appear less cluttered (especially since you can shut the door on a messy room!). Choosing this style can even lower your energy bills since it's easier to heat and cool smaller spaces.
The cons of a closed floor plan include less natural light, less accessibility, and the potential for the spaces to feel small or cramped.
Benefits of Open Floor Concepts
Open floor concepts are all the rage at the moment and reflect a contemporary feel. They're so trendy, in fact, that (for now, at least!) you can expect a higher resale value on your home. This architectural style allows for more natural light, which helps a space feel brighter and larger. It's also more accessible for individuals with disabilities and allows for a direct line of sight to keep an eye on young children or elderly relatives. More open floor plans also allow for better socializing and communication—and if Dad or Mom is in the kitchen cooking, they can stay involved in the living room conversation.
Many point to interior design difficulties as a key con of open floor concepts. With this style, it may be harder to give a separate feel to each space, and there are more design elements to try to coordinate compared to a single room. There's also less privacy, no sound control, and potentially higher energy bills due to heating and cooling such a large space.
No matter what style of floor plan you prefer, we can work with you to draft the perfect plan and make your dream home a reality.
Custom Home Builders in Delaware
H&H Builders, Inc. is based in Dover, DE, and has been providing residents of Delmarva with high-quality custom construction services for more than 50 years. We've built a premier reputation delivering unparalleled custom homes and exceptional customer service at affordable prices. We guarantee a job well done every time. Reach out today to get in contact with our home builders.