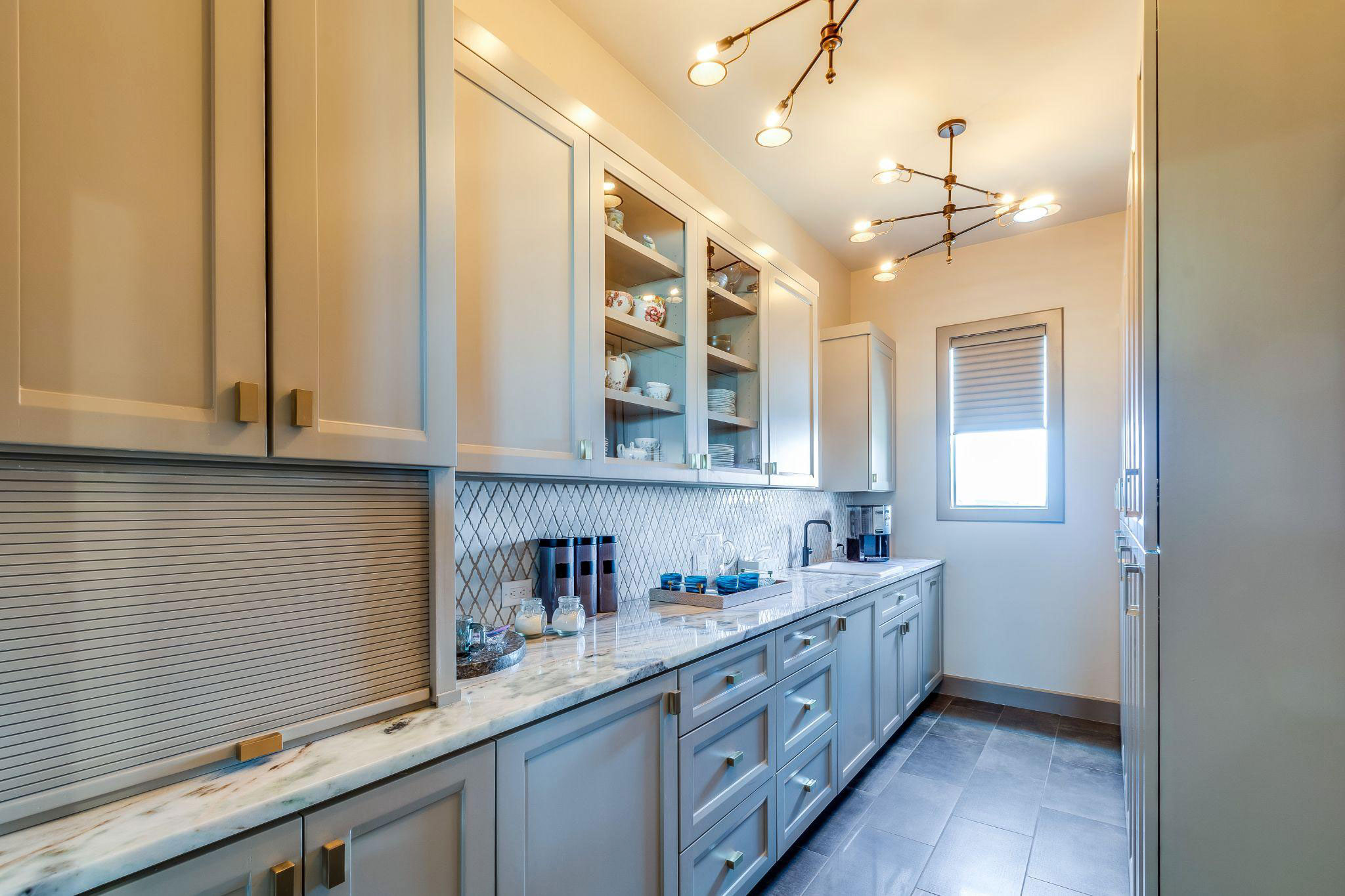 Thu 09 2022

Top Benefits of a Butler's Pantry

So, you've decided to design a custom home. Or maybe you're just wanting to remodel your kitchen. No matter what the reason may be, designing a kitchen is always a fun and exciting job. There is so much that goes into designing or remodeling a kitchen, such as colors, floors, counters, and even custom features. One of those custom features is a butler's pantry.

If you aren't familiar with a butler's pantry, you may not know how many benefits it can actually have for your kitchen, or what a butler's pantry is. But there's no need to worry. Here are all of the top benefits of a butler's pantry:
What Is a Butler's Pantry?
A butler's pantry is often an additional pantry that can be installed in your kitchen, dining room, and other areas of entertainment in your home. It's typically used for extra storage space for food, kitchen equipment, and small appliances. It also comes equipped with a prep area for food. Some may consider it to be a mini kitchen within your kitchen. No matter what you choose to call it, there's no denying that it has plenty of benefits.
Advantages of a Butler's Pantry
Extra Storage
One of the main benefits of a butler's pantry is that it provides you with a lot of extra kitchen space for storage, and this doesn't just mean storage for dry goods. Often, butler's pantries can have cold storage, such as a mini-fridge or wine chiller, and even a hot plate to keep meals warm. They also provide the additional space you need for all of your kitchen appliances, such as a stand mixer, a toaster oven, and any other baking and cooking equipment.
Food Preparation Area
Sometimes butler's pantries are more convenient than your kitchen to prepare food, especially when you're hosting guests. Since most butler pantries include a food prep area, this gives you a more convenient area to prepare your meals. To make things easier, you can also have things like a sink or dishwasher included in your butler's pantry.
China and Glassware Organization
Since they come equipped with a lot of extra space, it makes butler's pantries the perfect place to keep all of your fine china and glassware. Store things that you don't use on a day-to-day basis here and keep your commonly used dishes in your kitchen cabinets.
Extra Refrigerator and Freezer Space
While putting a mini-fridge in your butler's pantry is an excellent idea, dare to think bigger. Butler pantries can be used to add another full-size fridge and freezer to your kitchen. This will keep the refrigerator out of sight, but also keep it so that it is easily accessible. Instead of going back and forth between your kitchen and garage to use your extra fridge, now you'll only have to walk a few steps to your butler's pantry.
Hire H&H Builders, Inc., for Your Custom Home
Whether you're building a new, custom home or are remodeling your kitchen, you can't go wrong with including a butler's pantry in the design. As one of our most asked-for custom home features, we have plenty of experience designing and constructing butler's pantries at H&H Builders, Inc. The next time you want to add a butler's pantry to your new or current kitchen, be sure to hire the best in Dover, DE. Contact us today for more information or to start discussing your kitchen remodel.